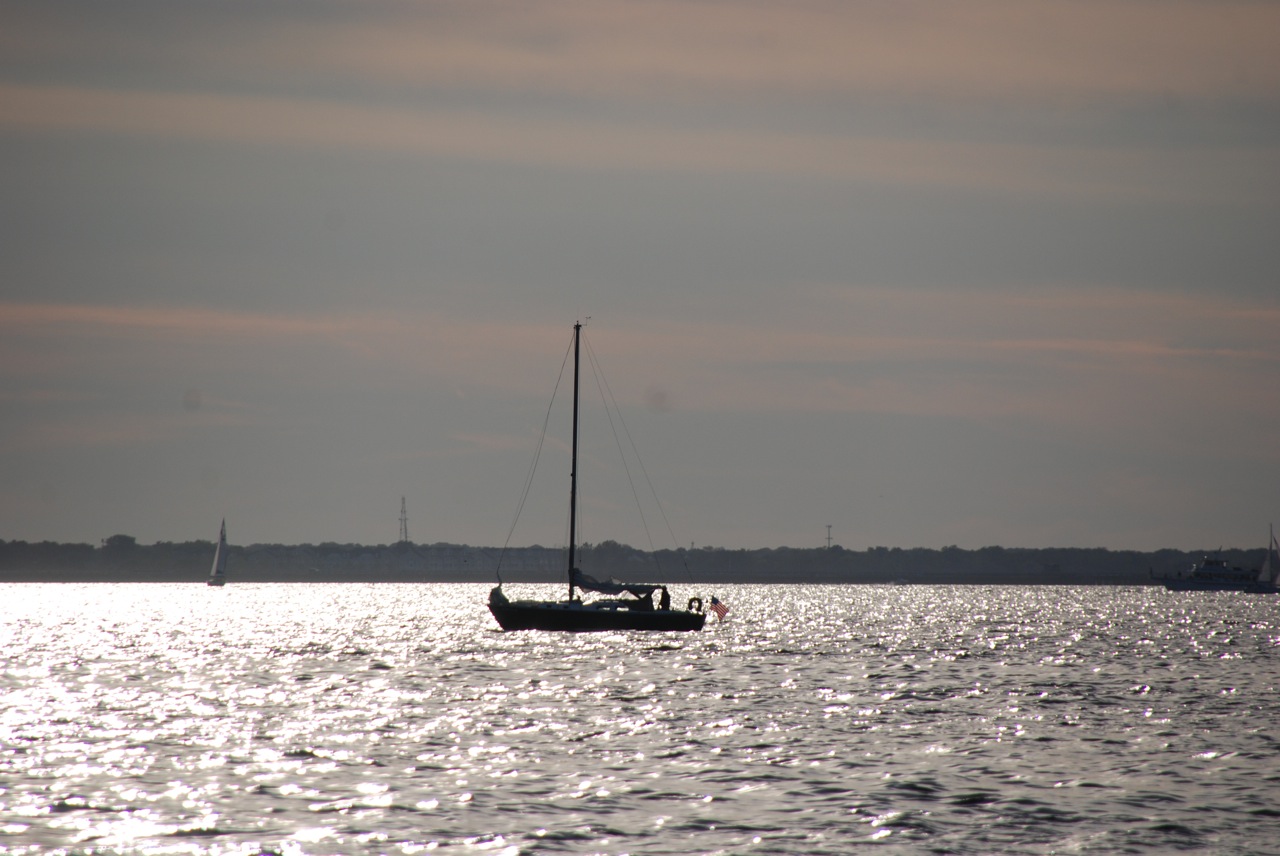 There are a lot of factors to consider when looking at a boat. I'll go into greater detail in a future chapter, but here we look at some of the most important things to bear in mind during your search.
1. You Want a Solid Fiberglass Hull – aka "The Classic Plastics"

It's said that wooden boats will die on their own, but fiberglass boats must be assassinated. Quality fiberglass is pound-for-pound stronger than steel, doesn't rust, rot, or otherwise succumb to the elements, and is easily repaired. You can't say those things about wood or steel.
Fiberglass boatbuilding had just begun in the late 1950's, and it's remained the dominant material chosen by designers since then. Wood boats are pretty, but high maintenance. There are steel and aluminum boats out there too, but they also require special care or corrosion will take over. Some boats have been built from cement. Nobody is making cement boats anymore. That can't be good.
The years ~1960-1975 were a "Golden Age" for American sailboats. Fiberglass boatbuilding was still in its infancy, so many boats were overbuilt as manufacturers weren't entirely sure on strength. Further, oil was cheap before the 1973-74 OPEC embargo made petroleum prices skyrocket, so manufacturers were content to build heavily and use plenty of resin. This resulted in some extremely durable boats, many of whom are still sailing today. Because of this, the prospective buyer can choose from thousands of worthy vessels.
Of course, age does play a factor. Although these fiberglass hulls may last another hundred years, other parts will have served their useful lives and need replacement. The key is to find boats that have been cared for and already had worn parts replaced, then to have the wherewithal to continue stewardship of these fine vessels until you're ready to sell and pass the torch forward.
The boats we'll discuss will have solid fiberglass hulls. They'll also typically have fiberglass decks cored with balsa wood (sometimes marine plywood) – meaning two layers of fiberglass sandwiching a layer of wood. This was done to keep the decks light, but strong. However, if water intrudes into the decks and rots the wood, you'll lose all strength and be in for an expensive, PITA deck repair. You want to bounce around the boat and feel SOLID decks under your feet.
Some more modern boats save weight using cored hulls, with the same wood sandwich arrangement as in decks. Many experienced sailors tell me that cored hulls are fine. But for me… Nope, just… Nope.
Likewise, beware wooden rudders and look for fiberglass. The same goes for iron centerboards. You want fiberglass.
2. You Want a Reliable Diesel Engine
The majority of boats from this period came with "Atomic 4" gasoline engines. While many of these engines have proven reliable over the years, you'll want to find a boat that has been repowered with a diesel.
Why?
First, gas fumes can settle in the bilge and explode. Second, diesels are more efficient and will go further per gallon than gas. Third, a 40-50 year-old engine (gas or diesel) will provide you with headaches, so a boat of this age with the original engine is a pass.
Yanmar, Volvo, Beta Marine, Perkins, and Westerbeke/Universal all make quality diesel engines for sailboats. The info in these articles will concentrate on Yanmar since I am most familiar with them and they've proven the most popular choice for repowering sailboats. I'll have more on diesel engines for you in a later article.
3.You Want an Encapsulated Lead Keel
Some boats have iron keels bolted on. You'll have less to worry about with an encapsulated lead keel. First, you don't have to worry about keel bolts wearing away, a condition that if left unchecked could prove catastrophic – i.e. the keel falls off and the boat capsizes. Second, lead is softer and will absorb shock better in a grounding. Third, lead is non-magnetic and won't screw with your compass like iron. Fourth, lead doesn't rust.
4. Buy the Boat You Want, Not the Boat That Could Someday Be What You Want
This is really important. You may be very tempted to "save money" and buy the boat that needs a lot of work, but this will probably prove costlier in the long-run. If you think you'll save money by installing a new diesel engine in the otherwise beautiful boat with the old Atomic 4, you're likely in for a surprise. Likewise the boat with the soft decks but "nice price", or the dismasted boat deal that seems to be a bargain, etc. You may be searching scrapyards for a long time before finding a suitable used mast, and buying and installing a new mast (or a new diesel engine) will likely cost as much as or more than a decent used sailboat.
To give you an example, when I had my boat surveyed just before purchase, there happened to be an identical boat for sale in the yard. The owner wanted $5K more than the previous owner of my boat – which at the time I thought was out of my price range, BUT – he had already done the things that my boat needed. I went on to spend about 3-4 times that $5K to get my boat into the shape that his was already. Further, had I negotiated with him I may have gotten that $5K difference down to $3-4K or even less.
Learn from my example. Before you buy, get an idea of what repairs and upgrades will cost and buy the boat you want, not the boat that could SOMEDAY be what you want. Be prepared to spend a little more up front to save in the long run. Used parts already on the boat are always less expensive than buying new. Plus, they're already installed…
5. Take Your Time
Do NOT fall in love and buy the first boat you see. Or the second. Or the third…
There were tens of thousands of quality boats made during the "Golden Age". Take your time and check out a bunch of them. Keep looking for the one that has been well-loved and best suits your needs. You'll find her. I looked at boats from Annapolis to Newport before I found "The One". Read on. I've compiled a shortlist to help narrow your search in Chapter V at NewYorkCitySailor.com – 3 Boatbuilders Every Prospective Sailboat Buyer Should Consider.
Thanks for reading! Feel free to leave a comment. If you'd like to have future posts sent to your inbox and receive notice on product specials from the New York City Sailor SHOP, please subscribe – see the "Subscribe to Blog / Sales" link on this page.
There are many more helpful articles at the BLOG, and more to come…
While you're here please check out the SHOP – over 6,600 discount marine products and counting!
Your business is appreciated and helps to keep this site running. Please tell your friends!
FYI: If you don't see products you're seeking please send email via the CONTACT page.
I'm adding new products all the time and can get just about anything you need.
Don't forget to "Like" and Share the New York City Sailor FACEBOOK page – also on TWITTER and GOOGLE+.
Fair winds!