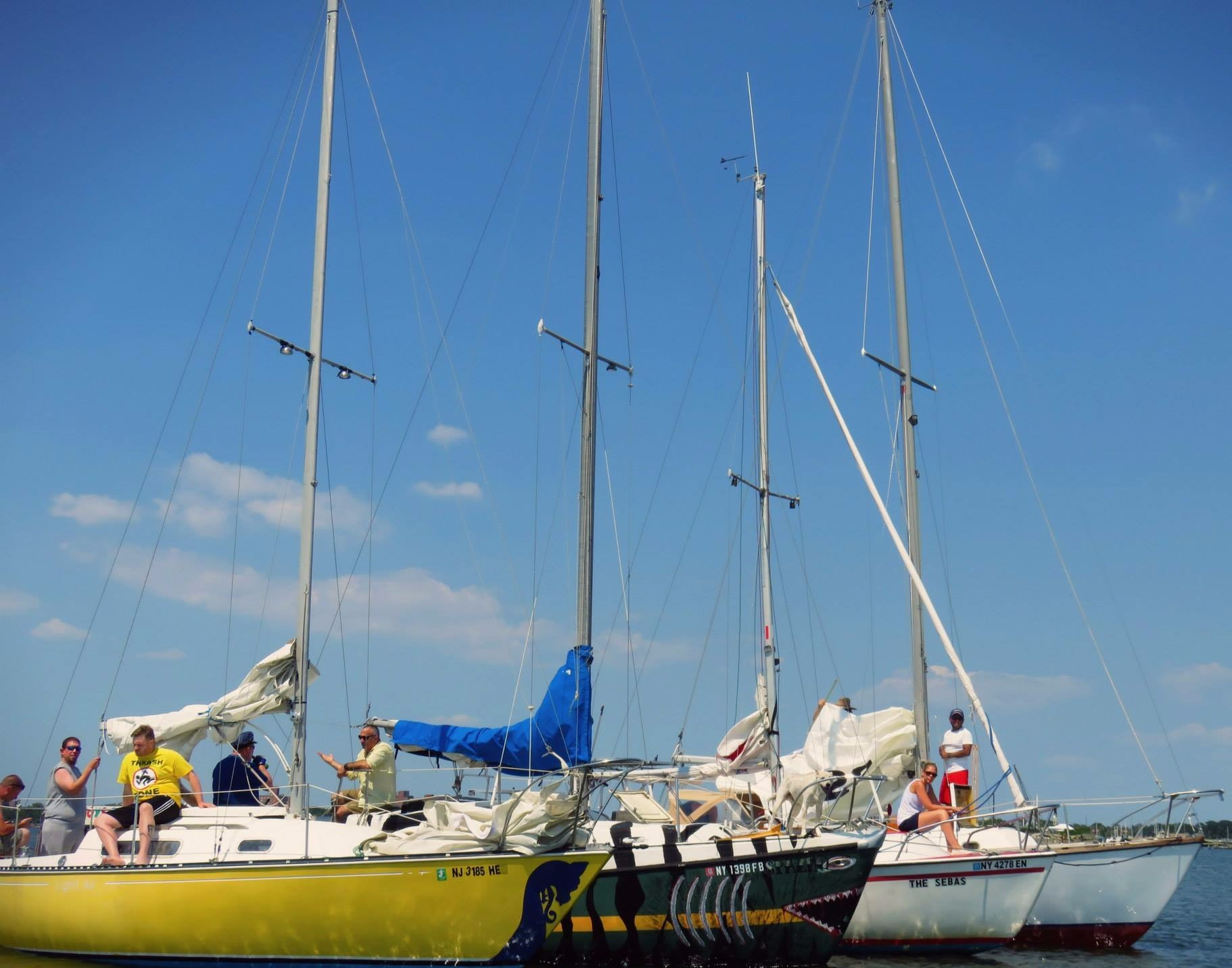 Crewing on Sailboats – The Best Way to Learn
My best advice to those thinking of purchasing a sailboat – start crewing on sailboats with knowledgeable captains. I don't just mean to go sailing on pleasant days but to be there when needed to help with boat work and maintenance in the off-season.
Volunteering to help an experienced captain with boat work will help give you the skills you'll need to maintain your own vessel. Plus, someone who's been sailing the waterways for years will be able to provide you with local knowledge – hints, shortcuts, uncharted attractions/hazards, etc. that you'll never find in a book or on a website. Even now after many years as a boat owner I still volunteer to crew for other captains and help them out in the boatyard. You will never, ever know everything there is to know about sailing and boats. Shared knowledge and camaraderie are an essential part of every sailor's experience.
The lessons you learn working on someone else's boat are invaluable. If you're really serious about buying a boat you should be GLUED to a captain who can teach you what they know about sailing and boat maintenance. Put in the work and then assess what it would be like for you to be responsible for all upkeep. You may just decide to crew for a while longer…
 4 Ways to Assure You'll Be "Good Crew" on a Sailboat and Invited Back Again and Again…
"Good Crew"
It's said that good crew is the envy of every captain. But what is meant by "good crew"? What can you do to assure you'll be welcome when aboard?
First, respect the fact that the captain bears the burden of responsibility for all boat expenses as well as all liability for the safety of those aboard. S/He is doing you a great courtesy by having you. There are tons of charter boats around the city that charge for this privilege. Likewise, there are many sailing schools that require payment for the benefit of their instruction. So show your appreciation with liberal amounts of respect.
I've actually had crew show up empty handed for a weekend-long sail and then tell me they've no money to pitch in for provisions. This scumbag expected me to provide all food and beverages, along with all fuel expenses, and clean up after him. Needless to say, he was never invited back.
Whenever I crew, I always bring plenty of food and beverages to share with the captain and other crewmembers. Follow that example.
Second, be there on time. The old nautical saying "Time and tide wait for no man" illustrates the heightened importance of being punctual on a sailboat. The tide comes in and out twice a day and your captain will likely have planned departure times to coincide with the tidal currents.
Properly timing the tides can drastically shorten a voyage. Conversely, fighting against the motion of the tides can turn a short sail into an all-day affair. You may arrive to find an empty dock if you fail to show up on time. Worse, you may find a highly displeased captain who decided against better judgment to wait for you.
Third, make it unquestionable that you are there to help. Step up and ask what needs to be done. Look around the boat and offer to address anything you see that needs doing.
Fourth, listen carefully to the instructions your captain gives you, ask questions if you're unclear on what is expected, and verbally confirm that you understand the instructions given.
There's a reason why sailors say "aye-aye" when receiving instructions. It's to assure all parties that they agree on what needs to be done and who is to do it. Likewise, when initiating communication with your captain, assure you get a response. The wind or engine may drown out your voice, so repeat until you get clarity. This way of communicating prevents expensive, possibly life-threatening mistakes.
Request -> Acknowledge, Request -> Acknowledge, Request -> Acknowledge…
Check out these two great articles on boat etiquette:
How to Find a Sailboat Captain to 'Teach You the Ropes'
"O Captain my Captain"

I've stressed the value of volunteering to crew for an experienced captain, but how do you find one?
You'll certainly meet many in the USCG Auxiliary and they will likely know friends who need crew. You can also ask your sailing instructor or consider joining a yacht club.
Yacht Clubs

There are many Yacht Clubs around the city that you can join as an Associate Member. This type of membership is reserved for non-boat owners who would like to sail on the club's boat fleet. Less experienced sailors will typically be assigned to crew fleet boats and those more experienced will captain the vessels. These memberships are a great way to join the sailing community.
Here are a few clubs I've known to be both reputable and reasonable:
Find Crewing Opportunities Online

Craigslist has proven a fantastic tool for finding good boat crew.  I've posted in Community / Activities and gotten good results, once I weeded out the weirdos.
FloatPlan specializes in pairing captains with crew. I found a captain there and sailed all over Maine in his catamaran – a great voyage! FloatPlan has lots of opportunities here and abroad, once you weed out the weirdos.
As you become more involved in the sailing community, you'll find there's high demand for good crew. You'll also find there's a lot of weirdos online. But that's everywhere… 😉
Once you've crewed and put in your time helping out at the boatyard, ask yourself if you're ready for your own boat. If so, read on.
In Chapter IV at NewYorkCitySailor.com, I'll discuss 5 Things to Remember When Looking for Your First Sailboat.
Thanks for reading! Feel free to leave a comment. If you'd like to have future posts sent to your inbox and receive notice on product specials from the New York City Sailor SHOP, please subscribe – see the "Subscribe to Blog / Sales" link on this page.
There are many more helpful articles at the BLOG, and more to come…
While you're here please check out the SHOP – over 6,600 discount marine products and counting!
Your business is appreciated and helps to keep this site running. Please tell your friends!
FYI: If you don't see products you're seeking please send an email via the CONTACT page.
I'm adding new products all the time and can get just about anything you need.
Don't forget to "Like" and Share the New York City Sailor FACEBOOK page – also on TWITTER and GOOGLE+.
Fair winds!