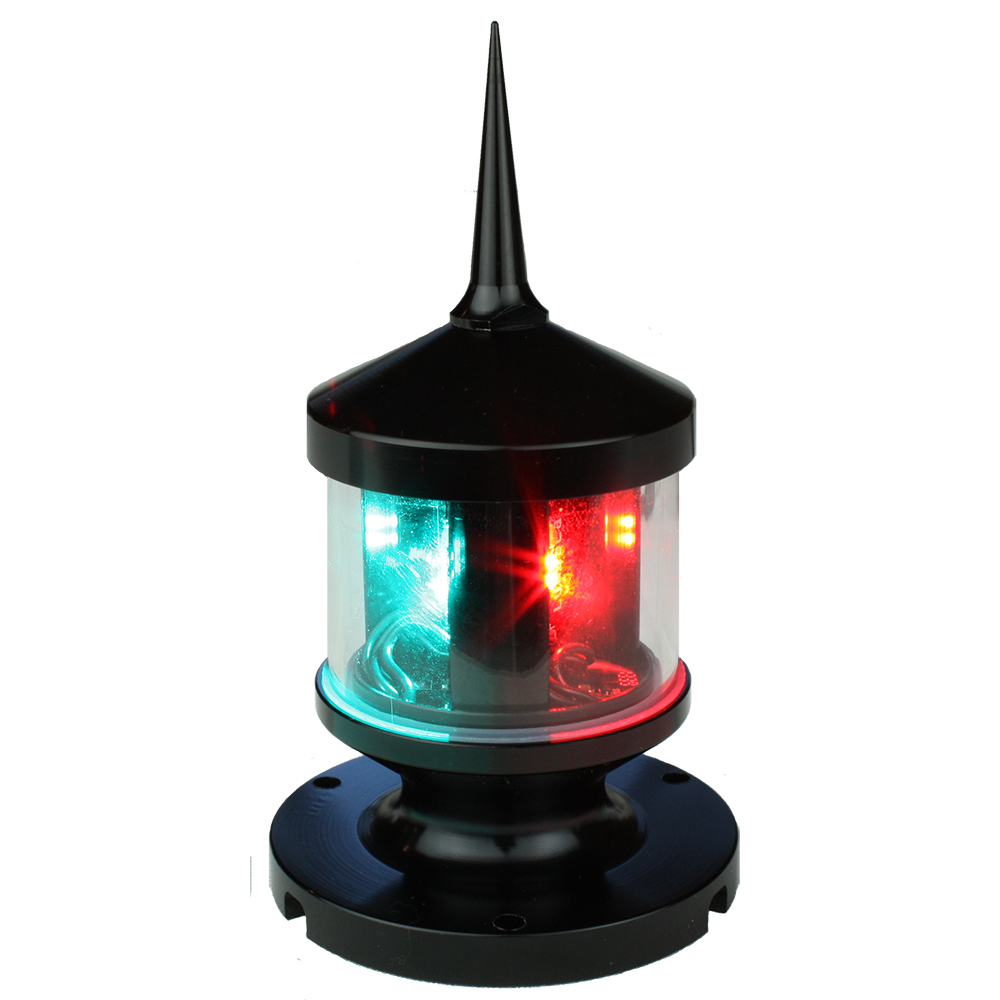 Lunasea Tri-Color/Anchor/Strobe LED Navigation Light
Back in 2015, my old 25W incandescent Aqua-Signal Tri-Color was showing its age. The plastic housing was worn, the lenses were getting cloudy, and it became increasingly temperamental – working one day and burning out the next. The bulbs just seemed to get more expensive – and never more efficient. The high draw was draining the batteries when anchoring overnight… I decided it was time to bite the bullet and go LED.
I did a lot of research and after comparing features, construction, and price, the clear choice was the 4W Lunasea Tri-Color/Anchor/Strobe LED Navigation Light.
I'm VERY happy with my choice. The engineers at Lunasea really thought this one through…
This lightweight (4.9oz) LED light is machined from hard-anodized aluminum with glass lenses. It feels like a solid piece of aluminum in your hand. A masthead light fixture is not what one would call easily accessible, so knowing it is made from resilient materials gives me peace of mind.
Installation was easy – especially since I'd had my mast down for the winter… 😉 Unfortunately, the bolt pattern didn't match up with those from my much larger previous light so I tapped new holes. C'est la vie…
Lunasea supplies its Tri-Color with a waterproof quick-disconnect that can be unscrewed with one hand – a welcome feature if you had to disconnect while aloft. The thin power cable allowed me to route it alongside my antenna cable, sharing the same exit hole from the mast. The cable's three wires connect to the boat's running and anchor light wires and share a ground. Speaking of the antenna, Lunasea claims zero electromagnetic interference and my experience thus far confirms this.
To this day I am amazed at the brightness of this light. Last summer in Port Jefferson harbor the anchor light beckoned me home while making the 1.5nm dinghy ride back from the shore. She stood out like a sore thumb amongst all the other anchor lights bobbing around that night. My friend at anchor beside her told me he thought the moon was full, but it was my anchor light…
Another duly considered feature is the anchor light's auto-off daylight sensor – for those mornings when the captain forgets the switch was left on. It's really apparent that Lunasea did their homework.
The icing on the cake for me is the strobe feature – something other manufacturers charge a lot more money to include. To activate the strobe distress signal, turn on your anchor and running lights together (something one would never normally do.) The strobe pulse is hard to miss, and I hope I never have to use it, but I'm glad to know it's there if I need it.
Finally, I know plenty of captains who are plagued by bird bombs… The Lunasea Tri-Color light is topped with a bird spike (or more appropriately, an anti-bird spike) that can be removed and replaced with a Davis wind indicator. If the spike isn't enough, the motion of the wind vane ought to deter birds from roosting on your masthead. 
The light comes with a three-year warranty, and mine is still going strong well after expiration. There is no replacement bulb as the LED circuit board is integral. Lunasea offers out of warranty service or full out of warranty replacement with a new unit for $99.
I'm really pleased when a manufacturer does its due-diligence and produces a design that addresses so many issues and at such a reasonable price. Kudos, Lunasea! Keep up the good work!
For Lunasea's complete specs and installation instructions click HERE.
Thanks for reading! I would appreciate your comments.
I've many more helpful articles on the BLOG page, and more to come…
New York City Sailor has these lights at a great price:
Lunasea Tri-Color/Anchor/Strobe LED Navigation Light
with fast, FREE SHIPPING on orders over $100*
While you're here, take a look at the user-friendly SHOP page…
– over 6,000 products specially organized to make it easy to find the parts you need.
For orders outside the US 48 or for any questions – please send email via the CONTACT page.
Your business is appreciated and enables me to keep this site running.
Want to receive blog posts and product specials in your inbox?
To subscribe, see the "Subscribe to Blog / Sales" form on this page.
Don't forget to check out the Facebook Page and hit that Like button!
Fair Winds,
VIKING
NewYorkCitySailor.com