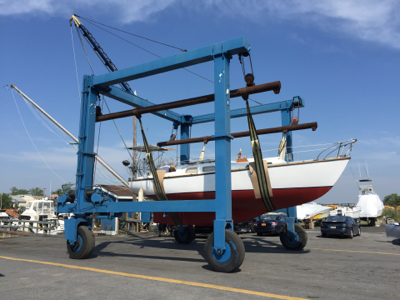 Preparing for Your Boat Search 
Alright! You've done your homework, joined the USCG Auxiliary, crewed under experienced captains for a few years, examined boat designs, learned a bit about engines, and now you feel ready to take the plunge.
By this point, you should have a feel for the kind of sailing that you want to do, where you want to sail, and the boat that suits this style, be it daysailer, racer, coastal cruiser, or blue water passage maker. Now you have to prepare for your boat search.
Boat Specs and Reviews
First, Google reviews of the boat(s) you're favoring. This will provide some insight into known issues, model years that are preferable, etc. In Chapter V, I listed some reliable boat reviews for some great boats. Further your knowledge of the vessels in your sights by checking out their specifications on SailboatData.com – an excellent site with comprehensive information on 1000's of boats.
DIY Boat Survey

Next, learn how to do a self-survey. Basically, you want to look at each component on a vessel to assess its condition. You'll want to take plenty of pictures and make notes on your findings as you go.
In Chapter II, I mentioned the Complete Illustrated Sailboat Maintenance Manual by Don Casey. Don's got some great info on self-survey. If you haven't already picked up this book, now's the time. You can refer to his step-by-step instructions to gauge the urgency, difficulty, and expense of any repairs needed for the boats that you're considering.
These links will complement your self-survey regimen:
Also if the owner has had the boat surveyed, ask for a copy. In a perfect world every potential seller will have a recent survey in hand to streamline the sale, but even if the boat was surveyed 10 years ago, you can use that information to determine the level of care or neglect she's been given. Did the owner properly address issues raised by the surveyor? Does the boat seem to be in better condition than when she was last surveyed?
Here are some great articles on boat buying:
Now you've got your checklists, camera, notepad, flashlight, and tools ready to self-survey. Let's look at some ways to find well-loved used boats without the expense of going through a broker.
Begin the Hunt

As with most things, word of mouth is your best option. A captain you crew for… a USCG Auxiliarist… a fellow Yacht Club member… has a friend with a great boat for sale. The more of the boat's history that you can verify, the better.
Boatyards and marinas can be a great source. They'll often have a captain who's been with them for many years and is reluctantly parting with a boat. You can bet the yard employees will know which skipper's been taking care of his/her boat. Ask around.
SailboatListings.com is an excellent site – not only to find sailboats that are "for sale by owner", but to compare the price and condition of other identical boat models to the one you're considering.
Again, Craigslist.org is a fantastic resource and likewise for used sailboats. I found my boat on Craigslist!
Trusting Your Gut

Take your time, ask questions, do your homework, and TRUST YOUR GUT! If something about the boat or owner doesn't feel right, pass and look elsewhere.
I had a guy tell me that an obviously bent mast was just lying that way on the rack because of gravity… It stayed bent when I rolled it over.
Another guy kept insisting his Cal 34′ was a 'good solid boat' even after I pointed out that it was infested with wasps nests and its "Beam Of Death" (see Cal Yachts in Chapter V) was indeed rusted through and… dead. Yikes.
Other unscrupulous boat sellers aren't quite as obvious as these two knuckleheads, so LET THE BUYER BEWARE… If something about the boat or owner doesn't feel right, PASS AND LOOK ELSEWHERE!
Use your self-survey to eliminate the losers. Now take a good hard look at your observations of those still under consideration. Odds are you've found some issues that will need repair. Check out those repairs in the Casey book and price out the needed materials from my Marine Supplies vendors. Does that boat still make sense? If not, they are 1000's more boats out there. If so, read on…
The 2nd Opinion…

Once you've found a boat and she's passed your self-survey, it's time to arrange a survey and a sea trial with a qualified marine surveyor. You'll want to arrange a short haul so your surveyor can assure there are no surprises below the waterline… Then you'll do a sea trial to assure she floats, the engine runs reliably, she sails well, etc.
All this can be expensive, so be 99% sure this is the boat you want before arranging to hire a surveyor and have the boat hauled. It may be very tempting to proceed from your self-survey and forgo the expense of survey, short haul, and sea trial. Do not give in to this temptation. In addition to the risk of buying a money pit, it's unlikely that you'll be able to insure the vessel without a current survey. Also, an impartial third party may be needed to slap you in the face if you've "fallen in love" and chosen to overlook serious problems.
Survey

You'll want a qualified marine surveyor who is a sailboat specialist. To find one, as always, word of mouth is best. Yacht clubs, marinas, and boatyards will know a good one. Also, ask your insurer. (Don't have one? I'll have some suggestions later in this article…)
The National Association of Marine Surveyors (NAMS) is the preeminent organization of Marine Surveyors. Their page offers a link to find surveyors in your area.
The Society of Accredited Marine Surveyors (SAMS) is another well-respected association of marine surveyors. They offer this link to find surveyors in your area.
The American Boat & Yacht Council (ABYC) is the organization that maintains the standards for the marine industry. If a boat is up to ABYC standards, you're in good shape. They also offer a link to find marine surveyors. Your surveyor should be a member of NAMS or SAMS and be ABYC compliant.
Sea Trial

In short, you want to make sure she floats, motors, sails as she should, and does not take on water (check the bilge before and after). Is she stable walking the decks? Does she move easily and turn well? Do the sails raise and lower easily? How does she tack?
Read through these articles on Sea Trial:
Decisions, Decisions…
A survey and sea trial may very well reveal problems that you hadn't discovered. You now have solid evidence from which to negotiate your purchase price. Depending on the severity of the issue, you may wish to withdraw altogether. Use the information we've discussed to determine if the boat is worth repair and upgrades.
Remember also that you're going to have to move the boat from her current home to your dock of choice. Do you feel comfortable making that passage? Maybe some safety issues should be addressed by the current owner? Weigh your options and proceed accordingly.
If you found a money pit, be glad that you paid the money for a survey and are not the new owner of a liability for years to come… If you've indeed found 'the one', congrats, but we're not done yet… You have a lot more to consider beyond the initial purchase price. Read on.
Insurance
You need insurance. Liability is a minimum, but most marinas now also require hull insurance (like collision insurance on an auto). You've got your survey in hand, so you're ready to talk with an agent. A good policy will provide peace of mind and make it easier to recover from the inevitable storm, snafu, or accident that damages your pride and joy.
TIP: If you have homeowners insurance, you can likely get a good deal by adding your boat coverage to your policy.
I know many captains who swear by BoatUS. BoatUS is a boaters' advocacy group that offers insurance and a host of other services to members.
My surveyor recommended me to Larry Fox at The Boat Insurance Store. Larry put together an excellent policy with American Modern Insurance Group (AMIG).
AMIG saw me through Superstorm Sandy, a hit-and-run, and a flooding incident – all the while providing great service and fast reimbursement. They were calling every week borderline harassing me to finish sending in my receipts so they could process and pay the claim. I have never dealt with an insurance company like this. By the way, this is not a paid endorsement.
LAWRENCE FOX AGENCY
www.boatinsurancestore.com
(800) 553-7661
Tell Larry I sent you…
Towing Protection
Lastly, just like AAA for your car, you need on the water towing protection. Your insurance policy will provide a level of towing coverage, but for soft-groundings and engine problems you'll want the security and convenience of unlimited towing coverage.
Sooner or later, the engine's going to stop inexplicably, or you'll beach on an uncharted sandbar. Towing on the water is ridiculously expensive. For example, the above-referenced flooding incident incapacitated my engine and electric bilge pump. I paid $800 to be towed less than an hour to the service center.
With TowBoatUS or Sea Tow coverage, you pay an annual flat fee (around $180). TowBoatUS' "Unlimited Gold" or Sea Tow's "Gold Card" gets you free towing to the repair facility of your choice. I definitely recommend the top-tier coverage. It isn't that much more expensive than the regular coverage and the benefits far outweigh the extra price. They both have convenient, GPS-aware smartphone apps that make calling for help easy. There are some restrictions so be sure to read their fine print. For example, you must have a working bilge pump, so I could not use them for the flooding incident. (Luckily my insurer AMIG took care of the towing costs. Phew…)
OK now you've bought a boat. Where are you going to keep her? See Chapter VIII...
Thanks for reading! Feel free to leave a comment. If you'd like to have future posts sent to your inbox and receive notice on product specials from the New York City Sailor SHOP, please subscribe – see the "Subscribe to Blog / Sales" link on this page.
There are many more helpful articles at the BLOG, and more to come…
While you're here please check out the SHOP – thousands of discount marine products and counting!
Your business is appreciated and helps to keep this site running. Please tell your friends!
FYI: If you don't see products you're seeking please send email via the CONTACT page.
I'm adding new products all the time and can get just about anything you need.
Don't forget to "Like" and Share the New York City Sailor FACEBOOK page – also on TWITTER and GOOGLE+.
Fair winds!