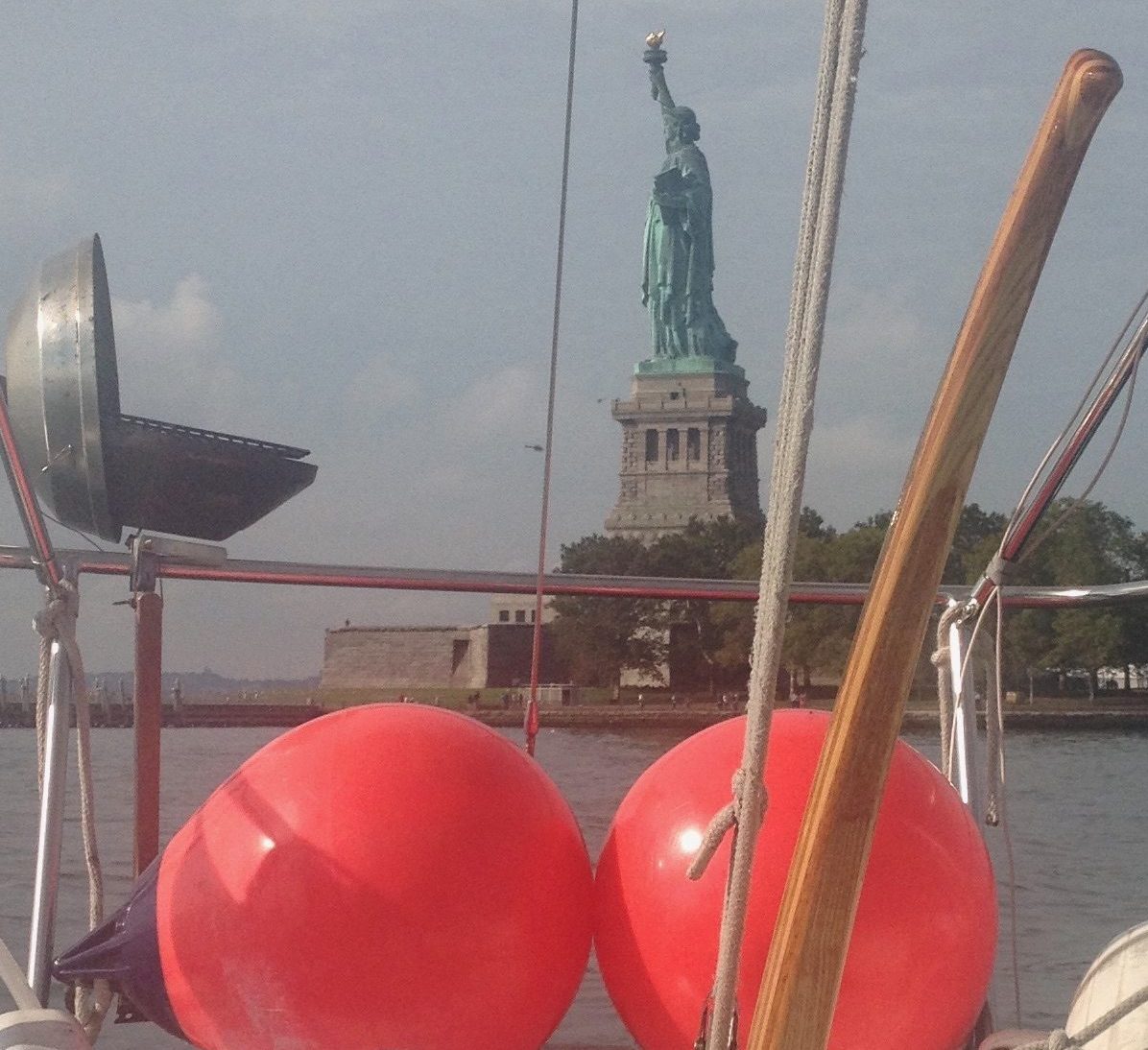 Polyform A-Series Fenders / Buoys
My Polyform A-Series fenders have been in service for eight years now…
While others popped, tore, took on water, etc, these fenders come back for more year after year, faithfully protecting my boat from docks and comfortably buffering her when tied up with other boats. In fact the A-Series work better than any other fender when tying up.
My Polyform A's have taken some heavy abuse here on the Hudson, where ferries and freighters throw wakes as big as ocean swells. They've protected my 30 footer admirably.
From bow to stern on each side, I use an A-3 (17" diameter) fore, followed by an A-2 (14.5" diameter), then an A-1 (11" diameter) amidships, then another A-2 on the quarter, finishing with a second A-3 aft.
For smaller boats, you could move down a size and use A-0's through A-2's. Likewise for larger boats move up to A-2's through A-4's, etc.
After eight years of being smashed and squished up against the dock, I've never had one pop or tear. The rope holds are reinforced and incredibly tough. The rubber is heavy-duty and consistently thick throughout the entire sphere. Apart from some fading of the color, they look and perform exactly as when I bought them in 2010. I can't tell you how many other fenders blew out on me, and the ones that survived absorbed marks that just make them look terrible.
They have super-efficient check valves that make inflation easy – no struggling against air trying to escape. When it's time to deflate, I insert a screwdriver or other implement to hold the check valve open while I sit on the fenders to push the air out.
Speaking of which, I always leave two A-3's inflated at all times. Not only are they great to throw over the side for a quick stop at the fuel dock, I keep them tied to my stern rails and use them to seat guests on my poop deck. They're actually super comfortable and work really well for this purpose.
I also keep two A-1's in the dinghy for when I bring the tender alongside the boat or dock. I just flip them over the side of the dinghy and tie on. The A-1's provide great protection.
A final benefit: these big, red balls provide plenty of fodder for stupid jokes your inner 12-year-old can repeat ad nauseam – just in case you're running thin on cockpit, seacock, poop deck, and head jokes… You're welcome. 😉
Thanks for reading! I would appreciate your comments.
I've many more helpful articles at the BLOG page, and more to come…
New York City Sailor has these terrific fenders at a great price:
Polyform A Series Buoy A-1 – 11″ Diameter
Polyform A Series Buoy A-2 – 14.5″ Diameter
Polyform A Series Buoy A-3 – 17″ Diameter
with fast, FREE SHIPPING on orders over $100*
While you're here, take a look at the user-friendly SHOP page…
– over 6,000 products specially organized to make it easy to find the parts you need.
For orders outside the US 48 or for any questions – please send email via the CONTACT page.
Your business is appreciated and enables me to keep this site running.
Don't forget to check out the Facebook Page and hit that Like button!
Fair Winds,
VIKING
NewYorkCitySailor.com