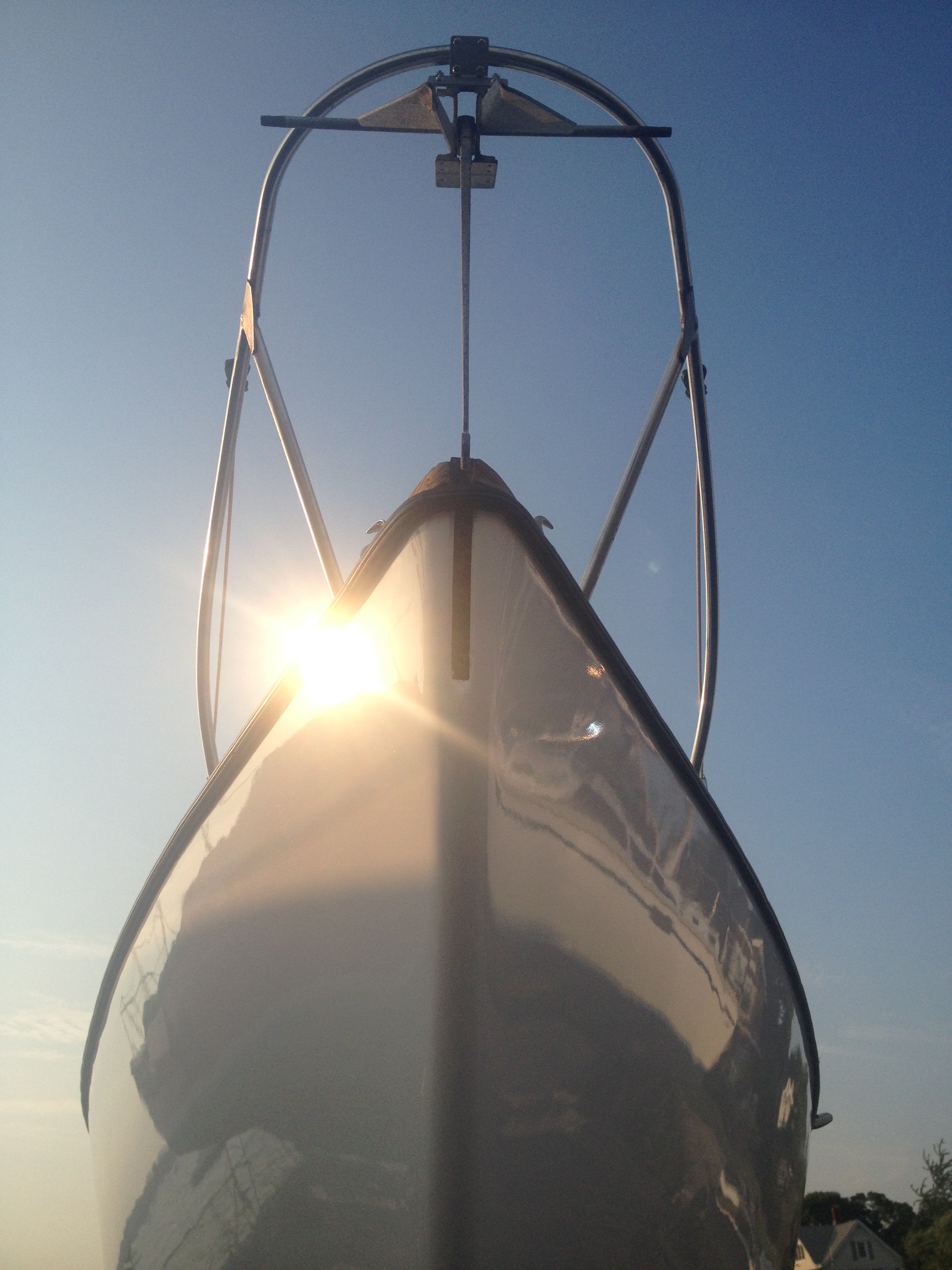 If you're looking to live the dream aboard your own sailing vessel, you'll find that there are thousands of boat manufacturers. We're going to limit our scope to a few from the "Golden Age" of American boat building that I discussed in Chapter IV. I've chosen three with unimpeachable credentials.
`
1. Pearson Yachts

Pearson Yachts basically started fiberglass boatbuilding. They introduced the venerable Pearson Triton 28′ in 1958 and sailors are still circumnavigating the globe in them. Cousins Clint and Everett Pearson began with a who's who of superstar yacht designers like the Triton's designer, Carl Alberg, along with John Alden, Philip Rhodes, and William Tripp. Pearson then turned the reins over to Sparkman and Stephens alumnus William Shaw. Shaw produced over fifty designs for Pearson, many highly successful.
Pearsons have a reputation as well-built, seaworthy boats. They were one of the most prolific builders of this era with the Pearson Ensign 22′ (1776 hulls built), the Pearson 30′ (1000+ hulls built), and the Pearson 35′ (515 hulls built). The aforementioned Triton sold an estimated 700 hulls. Pearson made many other models during this period which were less common, but worth a look. I've included reviews of some of their other models in the links section below.
While Pearson went out of business in 1990, Ensign Spars of Michigan are still building the popular Ensigns from Pearson's original molds. You'll find many Pearsons still on the water, (including the author's 1969 Wanderer 30′) and there are many owners associations and online resources with tips on maintenance and upgrades.
The majority of Pearsons were built in Bristol, Rhode Island and there are still a number of firms there that stock or manufacture Pearson parts and accessories.
TIP: ~150-200 Pearson Tritons were manufactured on the West Coast by Aeromarine Plastics. Identifiable by their masthead rig and lacking the wooden trim found on fractional-rig East Coast Tritons, West Coast Tritons are rumored to have solid fiberglass decks with no balsa core and are highly sought after for their superior build quality.
Boat Reviews and Further Info

2. Cal Yachts


Like Pearson, Cal Yachts were pioneers in fiberglass boatbuilding. Cal employed a sole designer – naval architect Bill Lapworth. His innovative designs would prove to be game-changers and his name became synonymous with the Cal brand.
Lapworth was incredibly prolific, producing 28 designs during the "Golden Age" alone. He was also known for demonstrating his designs in action, sailing his Cal 20′ across the Pacific from California to Hawaii.
Cal had incredible success and sold thousands of Lapworth designed boats, including the Cal 20′ (1945 hulls), the Cal 21′ (500 hulls), the Cal 25′ Pop-Top (1848 hulls), the Cal 2-27′ (656 hulls), and the Cal 29′ (624 hulls).
While Cal's biggest sellers were in the 20-29′ range, Lapworth stunned the sailing world with his Cal 40′ (160 hulls). The 'Giant Killer' as it was called burst onto the scene in 1963 and catapulted Lapworth to international renown as Cal 40's dominated the ocean races of the sixties and beyond.
Cals of many sizes continue to do well racing today. Like Pearson, Cal produced many other models during the "Golden Age" which deserve your consideration. While no longer in business, Cals are well supported with owners associations and many firms in California continue to supply parts.
TIP: Many Cal designs of this era employ a galvanized steel I-beam installed athwartships at the base of the mast and attached to the foot of the bulkhead. 
The Cal's "Beam of Death" (Google it) is structurally crucial and must be sound. After years of use, rusty galvanized steel will wear out and eventually need replacement. This is a big job and the prospective Cal 29-40 owner would do well to find a boat that has already undergone mast beam replacement in stainless steel.
Boat Reviews and Further Info

Cal 20′ – Cal 20′ Review
Cal 21′ – Cal 21′ Review
Cal 25′ Pop-Top – Cal 25 Review
Cal 2-27′ – Cal 2-27′ Review from Practical Sailor
Cal 29′ – Cal 29′ Review
Cal 31′ – Cal 31 Review from Practical Sailor
Cal 34′- Cal 34′ Review from Practical Sailor
Cal 35′ Mk II – Cal 35′ Mk II Review from Practical Sailor
Cal 39′ – Cal 39′ Review from Sailing
Cal 40′
– Cal 40 Review from Practical Sailor
– Cal 40 Review from Sailing
Cal 46′ – Cal 46′ Review from Practical Sailor
3. Tartan

Ohio's Tartan Yachts began their reputation for building quality sailing yachts in 1961. During their first ten years, Tartan enjoyed great success by focusing on only four designs, three of which became some of the most successful boats of the "Golden Age": the Tartan 27′ (712 hulls built), the Tartan 30′ (606 hulls built), and the Tartan 34′ (525 hulls built).
With the exception of the Ted Hood designed Black Watch/Tartan 37′, all of Tartan's "Golden Age" boats were drawn up by the pedigreed firm of Sparkman and Stephens.
Unlike Pearson and Cal, Tartan is still in business today. They are renowned for their support to owners of their classics and still sell replacement parts for these well-loved boats. Tartan owners also enjoy a large community of owner associations.
Boat Reviews and Further Info

Tartan Yachts Home Page
Tartan Owners' Association

Tartan 27′
– Tartan 27′ Review from Practical Sailor
– Upgrading the Tartan 27 from Practical Sailor
Tartan 30′
Tartan 30′ Review from Sailing magazine
Tartan 34′
– Tartan 34′ Review from Sailing
– Tartan 34 Review from Practical Sailor
Tartan 3500 – Tartan 3500 Review from BoatUS
Tartan 37′
– Tartan 37 Review from BoatUS
– Tartan 37 Review from Cruising World
– Timeless Tartan 37′ from Practical Sailor
Conclusion

The prospective boat owner could do no wrong by limiting their search to Pearsons, Cals, and Tartans of this era. The vast numbers of quality boats that were produced ensure robust documentation and parts support.
In addition to these builders there were a number of others that produced well-founded vessels during the "Golden Age"; among them Pearson-offshoot Bristol, Columbia, C&C, Ericson, Islander, Cal-offshoot Ranger, and Sabre Yachts. Take a look at these links for more great boats that might be "the one".
Twenty Small Sailboats to Take You Anywhere
Twenty Affordable Sailboats to Take You Anywhere
One can also learn a great deal by examining the visionary designers of this era. A great place to start is with the "Bills" – Bill Lapworth, Bill Shaw, Bill Tripp, & Bill Crealock. As discussed, designs by Carl Alberg, John Alden, Ted Hood, Philip Rhodes, and Sparkman & Stephens are highly regarded. Learn from the masters…
In the next section at NewYorkCitySailor.com, we'll look at the most expensive component of a sailboat – the engine… Chapter VI. Diesel Engines is next.
Thanks for reading! Feel free to leave a comment. If you'd like to have future posts sent to your inbox and receive notice on product specials from the New York City Sailor SHOP, please subscribe – see the "Subscribe to Blog / Sales" link on this page.
There are many more helpful articles at the BLOG, and more to come…
While you're here please check out the SHOP – over 6,600 discount marine products and counting!
Your business is appreciated and helps to keep this site running. Please tell your friends!
FYI: If you don't see products you're seeking please send email via the CONTACT page.
I'm adding new products all the time and can get just about anything you need.
Don't forget to "Like" and Share the New York City Sailor FACEBOOK page – also on TWITTER and GOOGLE+.
Fair winds!