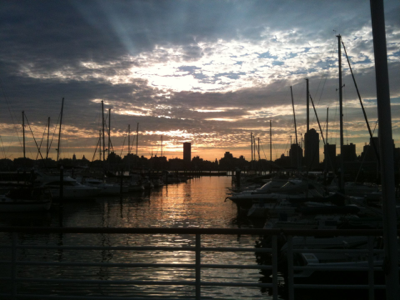 Her Summer and Winter Homes…
OK you're ready to buy. Where are you going to keep her? Unless you're buying a trailer-sailer and have a driveway to keep the trailer, you need dockage or a mooring in season and a good yard to haul and drydock her for the winter.
Even here in NYC, there are plenty of reasonable choices for the budget-conscious DIY sailor. Read on, they're organized by borough…
DiMeglio Marina
Three generations of the DiMeglio family run this marina on the sheltered East Mill Basin. Patriarch Danny DiMeglio's been there since he was a boy working with his father and grandfather.
They're super-friendly and give great rates on hauls, pressure wash, winter storage, and service. Their Travelift with attached crane makes stepping and unstepping your mast a breeze. DiMeglio offers 100 slips with water and power. You can do your own boat work but staff must do any bottom painting. Make sure to say hi to Freddie the Giant Macaw in the office. Be aware that he likes pistachios, cheeseburgers, and… fingers!
DiMeglio's amenities are limited to restrooms (no showers), a soda machine, and fish cleaning stations. Bay End Marine Supply is a 10min walk away on 68th and Avenue U along with a very well stocked Key Food supermarket. The Key Food shopping center is also home to a liquor store, a laundromat, and restaurants La Villa Italian, Lima Peruvian, and China Kettle.
On 63rd and Avenue U is the yummy Bagels Supreme and next door is Meats Supreme, a great old-school Italian Market. Still further down Avenue U are Home Depot, Lowe's, and Sears along with the King's Plaza Mall.
The B100, B41, and B3 NYC transit buses stop near the Key Food and will get you to the B, Q, 2, and 5 Subway lines.
TIP: If your mast extends 34′ or more from the waterline, you need to have the Belt Parkway's Mill Basin Bridge raised to get in and out of Mill Basin. Call (347)386-2472 at least one hour in advance. Construction of a new bridge with 60′ of clearance is slated for completion in 2017.
DiMeglio Marina
Avenue Y & East 69th Street
Brooklyn New York 11234
(718) 241-5011
www.nycgovparks.org/facilities/marinas/3
(Note that the rate info provided by the NYC Parks website is outdated.)
Gateway Marina
The largest marina in NYC with 500 slips, Gateway gets mixed reviews for its remote location and shoal-ridden approach. Apart from their small store with snacks, beer/soda, and ice, there is no place to provision within walking distance. They offer restrooms and showers.
However, it IS a beautiful remote location as it's part of Gateway National Refuge. If you like ocean sailing, the Atlantic is ~2 nautical miles away on the other side of Rockaway Point. You'll additionally have excellent access to Coney Island, the Rockaways, and Sandy Hook across the Lower Bay.
Gateway offers full service with hauls, pressure wash, winter storage, and shrink-wrap. You can do your own boat work but staff must do any bottom painting. Gateway is home to the Polish Sailing Club of New York. This lively organization has some fantastic sailors in their membership and they LOVE to party. Make friends with them!
The Q35 NYC Transit bus stops right by the marina and provides easy access (~15min) to the 2 and 5 Subway lines. The King's Plaza Mall, Home Depot, Lowe's, and Sears that I mentioned in the DiMeglio article are about a 10min bus ride away along with the Key Food and Bay End Marine Supply further up Avenue U.
TIP: Gateway's probably only going to work if you have a car…
Gateway Marina
3260 Flatbush Avenue
Brooklyn, New York 11234
Main Office: 718-252-8761 Service: 718-986-3773
www.gwmarina.com
Sheepshead Bay
Just above the northeastern side of Coney Island, the sheltered riviera of Sheepshead Bay offers excellent ocean access and fine dining with scores of beautiful swans gracing the shorelines. It's home to two well-regarded yacht clubs that are adjacent and actively compete in summer races and fishing tournaments (more on the clubs below).
Both clubs are about a 20min walk from the Sheepshead Bay B / Q Subway station. The B4, B44, and BM3 NYC Transit buses all run to the clubs. Sheepshead Bay's main drag Emmons Avenue is teeming with outstanding restaurants. Liman Turkish restaurant and Yiasou Greek restaurant will make you feel like you're on The Mediterranean. Aldi supermarket on Nostrand Av. and Ave. Y is a 10min walk for provisions. Fratello Laundry on Bedford and Ave. Y is a 15min walk. Kings Plaza Marina and Bay End Marine (mentioned in the DiMeglio Marina section) are a fair distance away but are your closest options for marine supplies. The western end of Sheepshead Bay has a land bridge for beach access at Manhattan Beach Park.
Sheepshead Bay Yacht Club
Sheepshead Bay Yacht Club offers the complete package – summer mooring with launch service and winter storage – at reasonable rates.
Their beautiful clubhouse was originally the summer home of the Rheingold beer family and its porches look out over their built-in pool and the bay. Their lively bar is open 7 days / week year round.
The club is equipped with restrooms, showers, and lockers as well as outdoor barbecues. It also has a large hall for events available at a discount to members. You can fill your water tanks at the dock.
Miramar Yacht Club
Miramar Yacht Club has a great clubhouse equipped with restrooms, showers, and lockers. They share a pool with the condos next door. Membership is very reasonable.
They have launch service to / from your vessel and reserved parking spots for members. You can fill your water tanks at the dock. Most members winter their boats at nearby DiMeglio Marina.
Miramar Yacht Club
3050 Emmons Ave
Sheepshead Bay, NY 11235
(718) 769-3548
sail@miramaryc.com
www.miramaryc.com
Marine Basin Marina

Opposite Sheepshead Bay, just north of Coney Island's west end in Gravesend Bay, Marine Basin Marina offers over 200 slips on a calm, sheltered harbor with stunning views of the Verrazano and the Lower Bay. The staff is friendly and offer marine supplies, hauls, winter wet storage, and repairs. Water and electricity is available at every slip.
Local favorite La Casa Bella Italian restaurant, BJ's Wholesale Club, and Caesar Bay Shopping Center are all within 10-15min walk, as is the D subway train at Bay 50th St. L&B Spumoni Gardens is worth the 20min walk, and you'll probably need it after filling up there…
TIP: Although many sites and charting applications report that Marine Basin has fuel, the fuel docks were wiped out during Superstorm Sandy and are unlikely to return.
Marina 59
I've recently learned about Marina 59 over in the wilds of Far Rockaway. This artsy haven in Arverne is on the vanguard of the Rockaway Renaissance two blocks from the A Train at Beach 60th St. and four blocks from the beach. The somewhat dicey surroundings are held in check by a high gate and adequate security. I'll be visiting Marina 59 and will be posting more on this ASAP.
Marina 59
59-14 Beach Channel Drive
Far Rockaway, NY 11692
Marina 59 Office
107 North 6th Street (Basement)
Brooklyn, NY 11249
(718) 945-4500 – Marina Mgr Ext. 1 – Dock Mgr Ext. 5
Info@Marina59.com
www.marina59.com
Bayside Marina
Bayside Marina has a small dock on Little Neck Bay with less than 50 slips, most of them so shallow they only accommodate small powerboats. The draw for sailors is Bayside's great mooring field with 24hr launch service. Bayside's nestled where the LI Sound just meets the East River, providing sailors with plenty of access to the city or the sea.
There's no boatyard or repair services, but Bayside boasts a tightly knit community of some fine sailors. City Island is just across the Sound and has all the marine supplies and repair services that you could want. More on City Island later…
Bayside Marina offers restrooms, showers and a little snack bar with food to order as well as beer, ice, and soda to go. Their rates are slightly higher than some other mooring fields but the 24hr launch with friendly and helpful drivers make Bayside a real bargain.
While Bayside is surprisingly lacking in marine supplies, there are plenty of bars, restaurants, and markets on nearby Bell Blvd. Bayside Milk Farm on Bell between 35th and 36th Ave is a great place to provision on the way to the marina.
You can fill water tanks at the Bayside dock, but there's no fuel, so sail east to the next bay and fuel up at Port Washington's Brewer Capri Marina. While you're there stop in at Louie's restaurant for a bite! For winter storage most of my friends at Bayside use College Point Yacht Club or one of the marinas in Port Washington.
TIP: I used to crew a lot in Bayside and had the commute down to a science. I'd take the LIRR from Penn Station to Bayside (~20min), then hoof it to Bayside Milk Farm for provisions (~5-10min), jump on the Q13 NYC Transit Bus to 28th Ave and Bell Blvd (~4min), then walk east on 28th Ave to the land bridge that goes over the Cross Island Expressway (~10min) and… You're midtown to dockside in less than an hour. I've since learned that the QM2 NYC Transit bus will take you from midtown to Bell Blvd and 25th Ave in about an hour. Then take a 15min walk over that same land bridge on 28th Ave. That's not a bad option in off-peak traffic.
Bayside Marina
28-05 Cross Island Parkway
Bayside, NY 11360
(718)229-0097
info@baysidemarinany.com
www.baysidemarinany.com
World's Fair Marina
World's Fair, like Bayside and the 79th Street Boat Basin, is run by the Marine Division of the NYC Parks Dept. They've over 250 slips on Flushing Bay and as an NYC Parks run facility have reasonable dockage. There's special ferry service to the marina for Mets games and the US Open. I've heard rumors of sailors using these ferries for an easy way out to the marina from Wall Street and midtown. More info on World's Fair coming soon…
World's Fair Marina
125-00 Northern Boulevard, off the Grand Central Parkway, Flushing Bay
Flushing, NY 11368
(718) 478-0480
https://www.nycgovparks.org/facilities/marinas/13
City Island – Important to All Sailors in the Region
City Island has a rich nautical history and its marinas, sail lofts, marine supplies, and yacht clubs attract sailors from all over NYC and the east coast. In fact, City Island is the only place in NYC to buy, service, and repair sails, so no matter where you decide to keep your boat, at some point you'll be making a trip there. As such we'll devote special attention to City Island.
City Island is as if someone cut off a hunk of Nantucket Island and dropped it in the water just off the Bronx. The island's charming architecture and fine restaurants make it a popular summer destination. Access from land is complicated by its single bridge. Prepare to sit in traffic, sometimes for hours, to get onto City Island during a holiday weekend. Planning to arrive super early or late is your best bet. Without traffic, the Bx29 NYC Transit bus will get you to City Island from the 6 Subway Train at Pelham Bay Park in 15-20min. To skip the traffic altogether, ride a bike between City Island and the subway through beautiful Pelham Bay Park – NYC's largest park.
Harlem Yacht Club
Harlem Yacht Club offers a very reasonable Summer Affiliate Program for prospective members to try out the club for the summer (May 15-Aug 15). For only $900 you get a mooring, launch service, and full use of the club. Harlem's a beautiful club and also offers winter storage for non-members (substantially discounted for members). You can do your own boat work but must comply with all environmental regulations, etc. as required in their contract.
Harlem Yacht Club
417 Hunter Ave, City Island, NY 10464
info@hyc.org
(718) 885-3078
http://www.hyc.org
City Island Marine Supplies

There are four nautical supply stores on City Island. I had a bad experience with the one by the bridge (an experience I know others have shared), but they are the biggest and may be the only one on the island to have what you need. However, I can't recommend them…
J. J. Burke Hardware & Discount Marine Supplies


526 City Island Avenue


City Island, NY 10464


(718)

885-1559



Burke's is staffed by Mr. Burke himself, a knowledgeable and friendly sailor who can answer just about any question you could have. I suggest calling ahead to assure he'll be in.
Buddy's Hardware & Yacht Supply


268 City Island Avenue


City Island, NY 10464


(718)

885-1447

Buddy's Marine Supply is a little further down City Island Avenue. While owner Karl is more powerboat oriented, he stocks a lot, including stainless steel hardware and many other must-haves. He's super helpful and has a great sense of humor that's punctuated by his distinctive Austrian accent.
Trader John Nautical Antiques, Anchors, & Supplies
239 & 246 City Island Avenue
City Island, NY 10464


(718)

885-1658Whenever you're on City Island, make it a point to stop in at Trader John's. This store is literally packed to the brim with all kinds of nautical gear, antiques, and collectibles – much of it salvaged or bought out from area shipyards. You may find that part you've been seeking for years. Ask for help! Unbelievably he knows where everything is…
Island Nautical Canvas
225 Fordham Street
City Island, NY 10464
(888) 8CANVAS
(718) 885-2255
mail@islandnauticalcanvas.com
http://www.islandnauticalcanvas.com

Island Nautical Canvas (I.N.C.) is your author's sail loft and provides quality sails, canvas, and service. Once the season has ended and you've hauled your boat for the winter, take your sails in for cleaning and repairs. They have a sail drop that's open 24/7.
UK Halsey Sailmakers
175 City Island Ave.
Bronx, NY 10464
(718) 885-2028
info@uksailmakers.com
www.uksailmakers.comInternational sailmakers UK Halsey are headquartered on City Island and offer the cutting edge in performance racing sails. Their website also offers excellent educational videos and articles.

UPDATE: On April 15th, the UK Sailmakers loft on City Island, there since 1946, moved off City Island to Port Chester, N.Y. as a result of the building being sold. Apparently, enough of their staff still live on City Island that they still do local sail drops. I've reached out to the loft and will post their sail drop procedures and update asap.

TIP: Zipcar has an overnight special Mon-Thurs. Pick up the car at 6pm and keep it overnight until 8:30am the next morning for $39 (gas and insurance included). This will give you plenty of time to pick up your sails, throw them in the Zipcar, then drive to City Island for sail drop and dinner. Return the Zipcar anytime before 8:30am the next morning. I usually reserve close to home then drop it off once I've completed my sail drop and dinner run. No parking headaches!

As I just mentioned I do the City Island sail loft / dinner run every year. Here's where to get a great meal!
The Black Whale – Tops on the island as far as I'm concerned. Intimate, rustic, and charming, the food is inventive and terrific.
Sea Shore – A bit less intimate, this large, lively restaurant also has dockage should you want to sail in for a bite. Sea Shore offers beautiful views of the water complemented by great food and service.
Evers Marina and Seaplane Base
1470 Outlook Avenue
Bronx, NY 10465
(718) 863-9111
eversboats@aol.com
www.eversmarina.com
I recently found this marina on Eastchester Bay. I haven't been yet, but plan to stop in soon so I can write a full report… This seems like a really attractive option as you'd have great access to City Island and The Sound, without the headaches of commuting to City Island. It's owned and operated by Charles Evers, which is a good sign, and they offer full service, hauls, and winter storage, with very good prices for NYC dockage! It is about a 20min walk (7min cycling) from the 6 train, so it may not work well without a car or a Lyft membership. More on this marina after I visit…
West 79th Street Boat Basin
For the budget conscious sailor, there is no place else in Manhattan.
Forget about dockage, I've been on a waiting list for over ten years. Frankly, if my number came up, I would probably stick with my mooring.
Why?
The Boat Basin dock is very shallow and that means access in and out must coincide with high tide. Further, the current on the Hudson is no joke – sometimes 2.5kts or more… That can make entry and exit very tricky. Third, the Hudson is one of the busiest shipping lanes in the world and the Boat Basin's seawall does little to prevent huge wakes from banging your boat into the dock. There's less to bang into on a mooring.
That's not to say that the moorings are without their challenges…
There is no launch service, so you must maintain a stout dinghy to get you and your crew, provisions, etc. back and forth to the dock. The Parks Department bases the mooring order on seniority so the newer you are, the further from the dock your mooring will be. And the Hudson can be hairy – take the wakes and currents previously discussed, add some heavy wind and rain and you've got a white-knuckle dinghy run to brave. Also if you're looking for a peaceful night's sleep, invest in a hammock, or raise sail and find a nice, peaceful cove somewhere because there will inevitably be a tanker barreling down at 4am and you'll be rocked and rolled right out of your berth. (I'll be detailing nice, peaceful coves in a future chapter.)
The good news is that the moorings have to be the best deal in the city in one of the nicest neighborhoods in New York. The Boat Basin is in lovely Riverside Park, and world-class provisioners are steps away, with Zabar's, Fairway, and Citarella within a few blocks. The 1, 2, 3, B, and C trains are also nearby, as well as several buses, including the M5 which will get you from 79th and Riverside to midtown in 15 minutes.
The Boat Basin has a single bathroom with a separate shower as well as a coin-operated washer and dryer. A really nice recent perk is the free ice machine by the office. You can fill water tanks at the dock and fuel up across the river at Lincoln Harbor Marina or further down at Liberty Landing Marina (the only 24hr fuel dock in town!) The Boat Basin offers no services and no winter storage, unless you're a year-round slipholder… But that's another waiting list. Sometimes the lively Boat Basin Cafe can be mobbed with 'bros'. Otherwise it's a great spot for a drink and a burger. They also have live music and other events.
Thanks for reading! Feel free to leave a comment. If you'd like to have future posts sent to your inbox and receive notice on product specials from the New York City Sailor SHOP, please subscribe – see the "Subscribe to Blog / Sales" link on this page.
There are many more helpful articles at the BLOG, and more to come…
While you're here please check out the SHOP – over 6,600 discount marine products and counting!
Your business is appreciated and helps to keep this site running. Please tell your friends!
FYI: If you don't see products you're seeking please send email via the CONTACT page.
I'm adding new products all the time and can get just about anything you need.
Don't forget to "Like" and Share the New York City Sailor FACEBOOK page – also on TWITTER and GOOGLE+.
Fair winds!